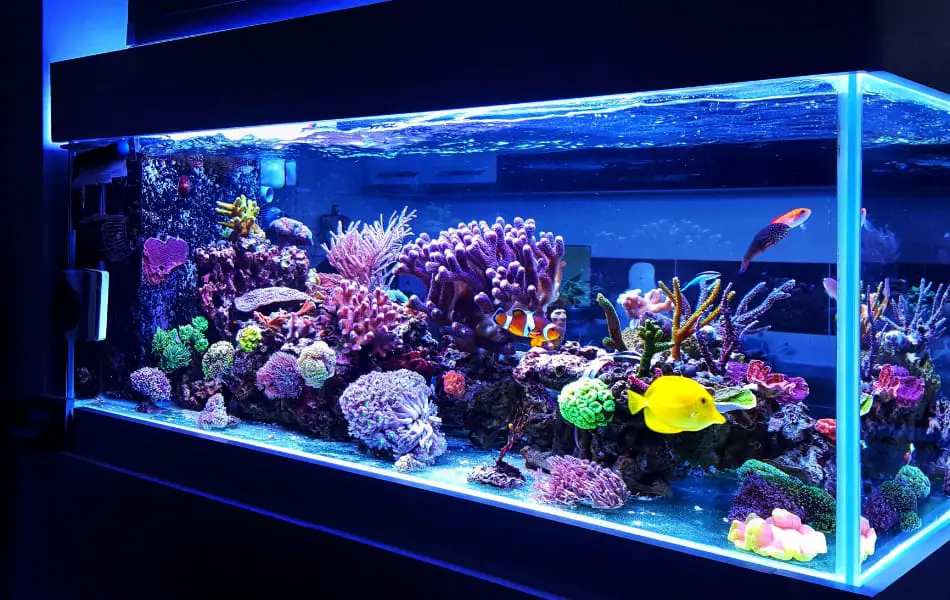 If you are planning to set up an aquarium in your room, you would already be doing a lot of hard work in the process. When you do so much, it only makes sense to walk that extra mile and make your fish tank look beautiful. The best thing about decorating your fish tank is that there are no set ways to go about it. You can do what you want to do to make it look as appealing as you want.
Decorating a home aquarium for beginners can be one of the most exciting experiences. The way you would dedicate yourself to decorating your first fish tank would make a great memory. With all of that being said, here's everything you can do to perk up your first fish tank.
Start with the fish tank
The fundamental shape in which best fish tanks for beginners come in rectangular shapes. While rectangular fish tanks are suitable for home aquariums for beginners
, you can still experiment. Based on where you plan to install your fish tank, you can get the shape of the fish tank customized. A fish tank of a different shape would attract a lot of attention and would also look unique.
For this, you can talk to the fish tank storekeeper and get a fish tank of any shape that you would want. However, with fish tanks of different shapes, you might have to clean every time and do more frequent cleaning rigorously. This is why talk to the storekeeper before you plan on buying a fish tank.
Add nice substrate
Substrate makes up the base layer of the fish tank. So, whatever color you choose to layer the base would decide the theme of your fish tank. You also have a variety of choices in a substrate. For instance, you can either choose sand or gravel. If you prefer sand, remember that if you add two colors, they would gradually get mixed. This is why, if it is going to be sand, sticking to one color is suitable for a home aquarium for beginners. Settling down for light and passive shades would be a good idea since the sand would get too bright for the fishes otherwise. You should also be prepared for the extra hard work to clean since it is too fine to clean.
Another option for you can be gravel, which can be easier to take care of. With gravel, you can layer different colors and create a mix and match. Also, they are pretty easy to clean compared to sand and don't get mixed up. For an ocean-like effect, you can choose colors like green and blue. However, anything under the sun would work since it is your fish tank. Just make sure as you buy gravel, you buy medium ones. Large gravel can trap a lot of waste material and even your fishes sometimes.
Rocks and driftwood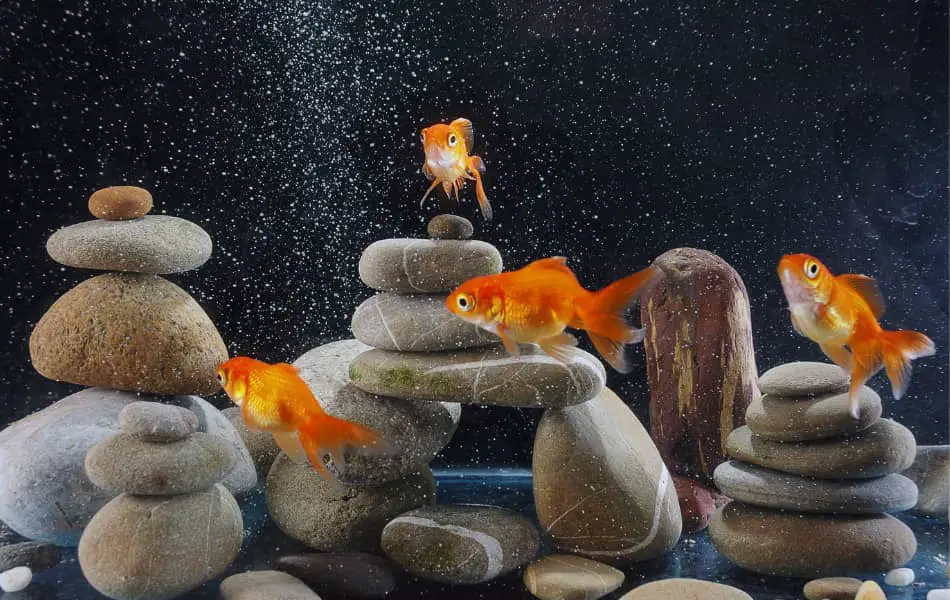 Besides sand and gravel, any natural ocean or beach would have different rocks and giant driftwoods. Most people try to create a miniature of an ocean in their fish tanks. A replica of an ocean always works well for a fish tank.
For this, you don't have to sweat a lot. Getting about two big rocks of natural shapes and placing them in the two corners of your fish tank would give a very natural beach/ocean-like feel.
Rocks, too, come in different kinds. You can choose out of an array of beautiful looking rocks, like zebra rock, rainbow rock, quartz, desert rock, etc. Here, colors can make a big difference. Rocks in lighter color shades would make your aquarium look cute. However, the darker color would give your fish tank a more serious tone, which also works well for certain fishes.
To make sure these rocks are safe for the aquarium, first, keep them in water for a few days and observe. Then, if they give off color or cause a difference in the water, you should not add them to the fish tank.
To add more to it, you can get driftwood of the size of your fish tank. Aged driftwoods surround most water bodies. This is why adding driftwood is one of the most natural ways of making your fish tank look beautiful. While you might find them in pet stores, you can also hunt for them at riversides if you can.
Add shells
While rocks, gravels, and driftwood are basic elements to add to a fish tank, you can perk it up a little more by adding shells. Shells are naturally found at beaches, which makes them a natural aquatic element as well.
When you hit the pet store, you would find a fantastic variety of shells. You can buy any- ranging, from minor to big. Also, shells come in different colors. If you want to stick to the natural beach look, look for white and off-white colored shells. You can also create a theme and match them with the color of gravel to add more color to your fish tank.
If you live close to a beach, you can get natural shells for your aquarium. However, make sure you pick just the shells and check if the shell has an animal or not. When you bring the collected shells back home, make sure you wash them in boiling water. Shells that you randomly pick from places might have bacteria in them, which might be dangerous to introduce in your fish tank.
Live plants
For anyone who loves plants and animals, fish tanks are the best of both worlds. While fishes are the primary organisms that live in a fish tank, you can also keep live plants in your fish tank. Live plants add more of a natural element to the fish tank.
You can find various species of aquatic plants that are good to plant in a fish tank. Besides adding visual appeal to the fish tank, live plants also regulate the natural biological filtration processes. They also make use of carbon dioxide and produce oxygen for the fishes to breathe. Live plants also mean better mental health for fishes.
However, one thing to remember is that adding live plants to the fish tank means more frequent cleaning. Plants have a specific life span after which they die. This would result in the accumulation of dead material in your fish tank. For this, you can keep certain fishes in the fish tank that eat dead plants.
Artificial plants
If you are not a big fan of live plants, you can also add artificial plants for fish tanks. Artificial plants are easier to take care of for home aquariums for beginners. In addition, these would cut down on the efforts required to clean the fish tank over and over when live plants die.
If your filtration system disturbs the aestheticism of your fish tank, you can fix artificial plants around it and hide the filter. Nowadays, artificial plants are made such that they greatly resemble live plants. You can find artificial plants in any pet store. Make sure the kind of artificial plants you use are made of safe material for your fishes. Good quality artificial plants come with proper approval that they are safe to be used in fish tanks.
Toys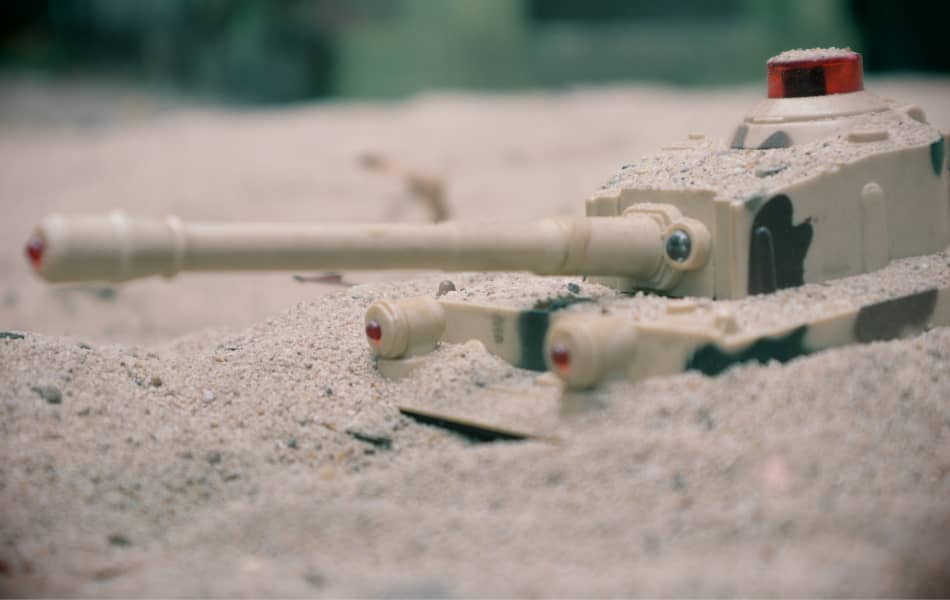 While plants, rocks, gravel, shells, and sand substrate add a very natural look to your fish tank, you can still take the game to the next level. If you want to make your fish tank look fancy, there are plenty of fish tank toys that can help you do that. Toys can mean anything. While some would complement the existing natural beach look, some toys would change the look.
Natural toys, like a rustic-looking miniature ship, a treasure box, coins, mermaid house, etc., would work well. If your fish tank is big enough, you can even add bigger toys made of shells and rocks. You would easily find medium-sized mermaid toys that still give the fish tank a very natural, under the water look.
You can add various other toys, like legos, small artificial fishes, minions, SpongeBob toys, or any toys for that matter. These toys would give a comic and fun look to your fish tank. Whatever toys you plan to have in your fish tank, make sure these toys are made of safe materials and don't prove harmful to your fishes.
Glass and Ceramic
You can add a few elements made of glass and ceramic to your fish tank too. For example, remember the glass bottle with a note in it in Pirate movies? You can include one of those in your fish tank.  Mostly, ceramic stuff would add a color element to your fish tank.
You can add coffee mugs or even tiny teacups. While these would look nice in the fish tank, they would also give fishes a little bit of space as hideouts. You can even paint these elements by yourself to customize them according to your taste.
Whatever things you buy for the fish tank or whatever paints you use, make sure they are safe for your fishes. For example, most cups and mugs would have the label "food safe," which means you can keep them in your fish tank.
Background
The background of your fish tank doesn't just have to be glass. While most people would keep it like that, you can customize the experience to something unique. Now here, you have two options.
First up, it can be an overall background wallpaper sticker, or you can paint or get the background painted. If it is background wallpaper, you can even choose patterns, like sand, waves, or a beach-like sticker. However, if you decide to paint, you can select a color that goes well with the color of your fishes.
The best thing about creating a background is that it gives you the most the liberty to customize and be artistic. You can find many DIY videos on YouTube and borrow ideas to plan the backdrop of your fish tank.
Stickers and Photographs
If adding complete background feels like overdoing or too much of a task, you can even use stickers and photographs. For example, based on your fish tank's theme, you can use stickers based on the hook. Stickers are also safe ways to decorate your fish tank since they don't contact the fishes.
Several online stores sell stickers for fish tanks. Using stickers, like surfboards, sharks, and fishes, you can create nice themes. The best thing about stickers is that you can take them off when you feel bored with them.
Besides stickers, you can also stick photographs of your family on the fish tank. This would add more of a personalized look to your fish tank.
Outside the tank
While decorating your fish tank is one aspect, you can even decorate the area outside the fish tank to make the surrounding look beautiful. If you are not a big fan of live aquatic plants, you can still use plants outside the aquarium. For this, have a table or something like it to extend the fish tank and add all the decorative stuff to that table. You can keep succulents in small pots, ships, other toys, and statues to make the whole area look beautiful. This can be your little corner to relax where you can sit and look at your fishes.
You can even paint the wall against the fish tank with coral shades of paint to extend the decorations. You can also stick stickers of fishes and coral animals on the wall.
Adding more creatures
While fish tanks majorly have home aquarium fish, it is no stranger than many other creatures can also exist with fishes in a fish tank. What's more, is that these creatures look beautiful. For instance, you can add cherry shrimps to the fish tank. Cherry Shrimps are tiny invertebrates cherry red and look amazing as they swim around.
Another option is Mystery Apple Snail. The best thing about these invertebrates is that they eat algae and help keep the fish tank clean. They would also reach nooks and corners where most algae eater fishes would fail to achieve. However, make sure that you carefully combine invertebrates with fishes. Many times, fishes eat invertebrates- which is something you wouldn't want. If you are doubtful of pairing these invertebrates with fishes, it is better to leave it out for home aquarium for beginners.
Conclusion
These are the easy ways in which you can decorate your fish tank. If you want to keep it plain and straightforward, there are no issues with it. Starting a fish tank for beginners can be a difficult task, but you need to be patient. As a fish tank person, it is totally up to you to decorate your fish tank.
The only thing to remember is that you have to show a little more commitment as you decorate your fish tank. Adding more elements to the fish tank means cleaning more elements when you clean the fish tank. However, given you keep the fish tank and things inside it clean, you are good to have decorations in your fish tank.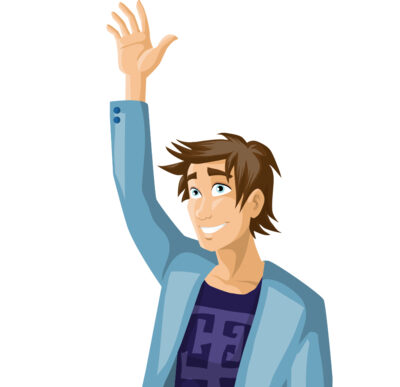 Jesse is the principal author of this blog. He is an avid fishkeeper with rich experience spanning several years. He is here to share his knowledge and ensure you also have a guiding compass, as he did with his father.